Career
Career Counselling
Alberta Learning Information Service (ALIS)
ALIS is the provincial gateway for career, learning and employment information and services in Alberta. The site is provided through a provincial government partnership of Alberta Employment, Immigration and Industry, Alberta Education,  and Alberta Advanced Education and Technology. (Please note that ALIS is pronounced "Alice").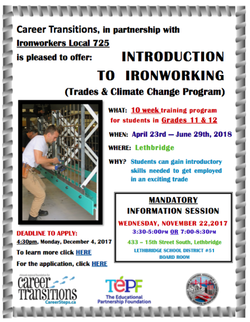 Registered Apprenticeship Program (RAP)
For  students who have completed grade 10 and want to get started in the Trades, RAP is a great start. 
RAP students are both full-time students and registered apprentices, dividing their time between an approved work site and their high school studies. They take regular courses such as English Language Arts, Social Studies, Science and Math in order to earn their Alberta High School Diploma or Certificate of Achievement.
For more information contact Mr. Blackmore to set up a time to visit about this great program.